Are you curious? Do you like to ask questions of the world around you? How was that formed and where did it come from?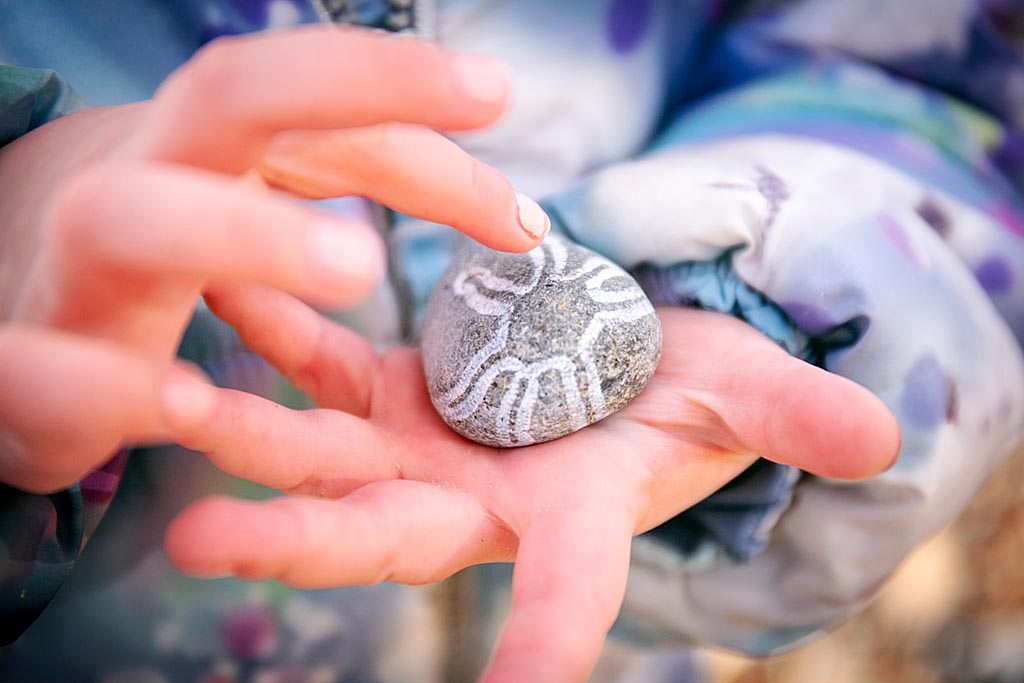 Geology is the study of the Earth, and it looks at some of the most important issues of the day- energy, resources, climate change and natural hazards.
The Cross-Channel Geopark aims to help bring to light its significant geology to as many people as possible, as well as its critical biodiversity and rich cultural stories.
Everything in the world is interconnected so let's begin to understand it.
The Cross-Channel Geopark is for everyone, and we want to encourage people of all ages to discover geology, explore the beautiful landscape, connect with nature and take positive action to protect it for the future.
Here are some resources that have been designed to help individuals, teachers, home schoolers and lifelong learners understand and value the geodiversity, biodiversity and cultural stories of the Cross-Channel Geopark.
What is a Rock
What actually is a rock? Get to know better some of the fundamental building blocks of our planet.
What is Soil
A simple scientific activity for home or school, to observe and understand the components of soil.
What is a Fossil
Ever wondered how fossils are made? In this simple and creative activity, you can get crafty and to replicate for yourself the formation of Trace fossils.
What is a Fossil (PDF, 625 KB)
What is Gault Clay
Learn more about the second of our sedimentary super-rocks and its plasticity, with an activity for home or school to hone your skills in scientific experiments.
What is Gault Clay (PDF, 683 KB)
What is Chalk
Learn more about the final in our series of sedimentary rocks, and perhaps its biggest superstar! With an activity to further improve your scientific skills and understand the rock property: porosity.
Spotlight on Sandstone
The Kent Downs is almost entirely made up of rocks from the Cretaceous Period (145-66mya). Get to know more about the oldest of our three sedimentary success stories- The Lower Greensand.
Spotlight on Sandstone (PDF, 1 MB)
What is Flint
Flint formation is complex. Flint formation is uncertain… and it involves slime! Use this resource to understand a bit more about a material that has been so important in early human history.
Rock Layers
Designed for a larger group but could be adapted for individuals. Using this activity plan and the other Cross-Channel Geopark rock resources, help your participants understand the Cretaceous geology timeline and the processes of rock formation by creating a Rock Layer installation.
Rivers, Valleys and Streams
Water shapes our planet. Use this resource to branch into the part of geology concerned with our water cycle and plan an adventure to follow its journey yourself in the outdoors.
Rivers, Valleys and Streams (PDF, 244 KB)
Creative Mapping
A simple activity which can be used in any outdoor location. For all ages of enquiring minds, to help connect with surroundings and build observational skills.
Creative Mapping (PDF, 338 KB)
My Geosite
A template to be used with younger audiences to record their experiences at a Geosite.
Nature's Song
A fun activity for all ages to test creative thinking, harness sound from the natural world and watch a world-famous rock band on the way!
Wonderful Wildlife
A creative project to learn more about local wildlife species, habitats and celebrate it all through costume and the performing arts.
Wonderful Wildlife (PDF, 2 MB)
GeoFuturists
Do you want to build a better future for the planet? Here is a prompt to begin thinking about what positive change you would like to see and how you might achieve it. You might use this exercise to reflect on a local, regional or global scale.
The Hills & Their Stories
An activity to extract and activate some of the stories buried within our landscape. This provides a focus on the Folkestone Downs site however the activity can be applied to any location of your choosing.
The Hills & their Stories (PDF, 670 KB)
Landscape Fiction
This activity is designed for those confident with reading. Engage with a text by writer Italo Calvino to give you new perspective on the Universe and inspire and energise your own re-telling of a story from the Cross-Channel Geopark.
Landscape Fiction (PDF, 589 KB)
What do Mars and the Channel have in common?
Did you know that Dover and Calais were once connected by a chalk land bridge?
Find out what tiny organisms the White Cliffs of Dover are made of. Step back in time and explore the ancient story of Kent's chalk landscape, the Megaflood, and how it shapes our outstanding natural and cultural heritage today.
Our free outreach programme aims to support access to the amazing outdoor spaces in the Geopark, bring engaging workshops to you at schools and community settings and design resources to help inspire. Working with a wide range of partners to make this possible.
If you are interested in participating in our outreach programme, or if you share our ambitions and would like to partner with us, we would love to hear from you. Please get in touch with out Outreach & Engagement Geoanimator, Louella Ward, Louella.Ward@kentdowns.org.uk
Thank you to the partners who have helped support the research and development of these resources:
Professor Sanjeev Gupta (Imperial College London)
Temujen Gunawardena
Dr Anjana Khatwa
GeoBus (Earth Sciences Department, UCL)
Earth Learning Idea
White Cliffs Countryside Partnership
Medway Valley Countryside Partnership
Folkestone Museum
The Butterfly Conservation
British Geological Survey
Thanks to the organisations who have helped trial these resources:
South Kent Coast Age UK
The Beacon Folkestone
Touchbase Care
Shepway Youth Hub
Royal College of Art
St Peter's CE Primary School
St Eanswythe's CE Primary School
Brabourne CE Primary School
Shoreham Village School
Lady Joanna Thornhill (Endowed) Primary School
Homestart Shepway
These resources have been developed as part of the UNESCO Sites Across the Channel Project.
This project has been funded by The European Union Regional Development Fund, Interreg Channel Programme.