EXPERIENCE is a €23.3 million project co-financed by the European Regional Development Fund (€16.1 million ERDF) through Interreg VA France (Channel) England Programme 2014-2020 Interreg VA France (Channel) England Programme 2014-2020. It aims to bring 20m visitors to project partner regions in the UK and France including Kent over the next few years. We'll do that by reinventing the way the economy, environment, communities and brands interact – focusing on sustainable, low-impact tourism activities to secure the future resilience of our natural and cultural assets.
Visit Kent and the Kent Downs National Landscape (with the North Downs Way National Trail) are working together to deliver this exciting investment to improve Kent for visitors and residents making Kent both a great place to live and a great place to visit. The Kent Downs National Landscape and surrounding areas are full of wonderful wildlife, foods, activities, history, arts and crafts that we want to share with both residents and visitors. For example you can walk in the footsteps of ancient pilgrims, practice meditation in a Kentish vineyard or experience Kent's nature up close and personal with expert countryside guides and gorgeous views. Sound good? Read on to find out more about how you can get involved…
What will EXPERIENCE do?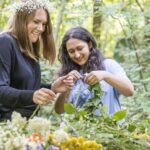 Promote Sustainable Tourism
We want visitors to respect, protect and enjoy the beautiful landscapes of Kent. So we are working with local businesses and organisations to create inspiring itineraries that are not only fun but benefit the environment we protect.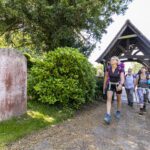 Increase Off-Season Visitors
Kent is full of a diverse range of experiences all year round so we'll highlight reasons to visit from October to March. Our aim is to help expand the tourism season beyond the traditional peak Summer period and encourage visitors to enjoy every season in the Garden of England.

Help Businesses Recover
We know it's been tough for local businesses and we want to help as much as we can. We'll provide a programme of support, training and promotion to existing and new businesses to aid recovery and help them understand how to harness and love the beautiful countryside around them.
How can you get involved?
We'd love to see you on one of our many routes and trails that cover the Kent Downs National Landscape in the near future. You can get involved in 2 ways – either as a local resident or visitor or as a business located near us or the North Downs Way. Click on one (or both) of the options below to find out more about this wonderful project and our beautiful landscapes.
EXPERIENCE in Kent is match funded by:
Ashford Borough Council
Canterbury City Council
Dover District Council
Folkestone & Hythe District Council
Gravesham Borough Council
Kent County Council
Medway Council
Thanet District Council
Tunbridge Wells Borough Council
Swale Borough Council