Kent Downs AONB & Visit Kent EXPERIENCE Business Training Resources
Theme two: Sustainable Tourism 
EXPERIENCE is a €23.3 million project co-financed by the European Regional Development Fund (€16.1 million ERDF) through Interreg VA France (Channel) England Programme 2014-2020 Interreg VA France (Channel) England Programme 2014-2020.
It aims to bring 20m visitors to project partner regions in the UK and France including Kent over the next few years by reinventing the way the economy, environment, communities, and brands interact – focusing on sustainable, low-impact tourism activities to secure the future resilience of our natural and cultural assets.
This innovative 4-year project is designed to break the seasonality cycle by simultaneously addressing the five challenges of growing visitor numbers between October and March. The project is achieving this through various activities and initiatives ranging from; research, analysis, business 'net-walking', training, workshops, communications, marketing and promotions to consumers, local businesses and travel trade and aims to leave a long-lasting legacy that drives incremental tourism business whilst minimising the environmental impacts of attracting additional visitors.
The development of three new and complementary thematic training resources is a key element of local business engagement. They are designed to support local SMEs, farmers and landowners to expand and diversify to meet the needs of visitors. They aim to provide incremental earning opportunities that respect the environment and natural assets of the Kent Downs AONB and the protected landscape of the North Downs Way and its relationship with the wider Kent area.
The scope of each resource entitled Sustainable Tourism, Into Agritourism and Landscape Distinctiveness and Storytelling is to provide practical business advice that can be easily implemented in part or in full that is supported with signposting to current and relevant resources. The inclusion of relevant case study materials is designed to connect businesses to success stories throughout Kent and to promote collaboration across the entire region and the benefits of working with other businesses to enhance the visitor experience. They celebrate local food, drink, history and cultural activities and promote lesser known locations to add value and extend the season through experiential tourism and successful and sensitive diversification.
Kent Downs protected landscape and North Downs Way National Trail
Covering a quarter of Kent, the Kent Downs AONB is a protected landscape and it is especially important that we consider the impact of tourism.  
What makes sense of place in the Kent Downs AONB and the North Downs Way, making the most of its location in the county of Kent? A wide variety of biodiversity-rich habitats, famously traditional farmed landscape, chalk streams and wetlands, extensive and ancient woodlands that create dramatic views of striking Kent Downs landforms entwined with 1000s of years of human activity and heritage that still resonate with today's modern visitor because of the thriving and vibrant communities living and shaping the landscape now.  
Within the wider Kent destination the EXPERIENCE project is helping businesses in the Kent Downs and North Downs Way to develop sustainable new products with a view to creating a successful tourism cluster in the protected landscape. Tourism clusters bring about local and national competitive advantages, improvement of the area as a visitor destination, better business processes and more effective collaboration to bring benefits to the local population. Respecting the environment and bringing economic gains to businesses directly and indirectly related to tourism.
Visit Kent has produced valuable resources for businesses to reference.  See Environmental Sustainability in Tourism: Key Trends and Business Guidance – Sept 2020.  
These resources are designed to complement the Visit Kent research and cover practical matters from access, transport and development particularly in rural and/ or protected landscapes.   
Sustainable Tourism – a globally focused buzz word to tag on to the already long list of things you need to do, or a key element of sound business planning in your corner of the Garden of England to ensure success in the future?  
Rural Tourism has requirements in addition to a more traditional definition of sustainable tourism:
"Sustainable rural tourism leads to
the revitalization of rural areas
, such as through the protection of residents' quality of life, the maintenance of traditional culture, the preservation of the ecological environment, and the creation of new jobs and increased income"  
Source: MDPI
Whilst the UNWTO (World Tourism Organisation) defines sustainable tourism as:
"Tourism that takes full account of its current and future economic, social and environmental impacts, addressing the needs of visitors, the industry and host communities"
There is no getting away from the impact of climate change, a global crisis and a global challenge and one that is firmly centre stage when it comes to the travel industry.  Partly due to extensive media coverage, consumers are increasingly aware and are demanding more when it comes to booking their holidays.  Companies who can carbon off-set and still offer value for money by integrating sustainable practices into their business planning will do best.
On an international scale, the impact of over-tourism in Venice has been well communicated for over 25 years and a case study can be found in these resources.  More recently we are hearing about summer season overcrowding in Cornwall's honeypot locations and even closer to home in the countryside, an influx of new visitors seeking out new places to explore, who inadvertently trample fields, drop litter and even start fires with higher levels of wild-camping.  
Irrespective of the size of your business or the landscape in which you operate, the adoption of sustainable tourism practises should become core to your business planning to help save you money and to position you well for long-term success.
From the grassroots up, there are many practical suggestions to support businesses throughout Kent and the Kent Downs AONB.  Suggestions that can make a meaningful difference that will improve your business, aid better collaboration and partnerships and give back to the landscape.
The Kent Downs AONB Landscape Promise embraces this and asks businesses to commit to three principles of Sustainable Tourism: Celebrating the Landscape, Encouraging Environmentally Friendly Practices, and Working with Local Communities, including other local businesses.  Sign up to our newsletter to hear more about how Kent Downs are helping sustainable tourism businesses. 
However, whilst consumers want to feel that they support sustainable tourism, there are barriers and attitudes that influence buyer behaviour.  Overcoming these barriers through education, action and communication are outlined in these new resources and are supported by local Kent Downs AONB messaging.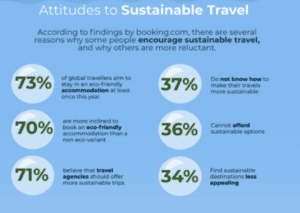 Source: Booking.com – Sustainable Travel Report 2020
Sustainability and consumer sentiment is still strong post the pandemic.
Why is it important?
In addition to making your contribution to climate change by reducing your carbon footprint, managing your business in a sustainable way will help you to reduce your costs, such as utility bills, and attract potential green business grant funding.  In addition to this, taking a sustainable approach will enhance your guest's experiences and create a better sense of place.  Offering local products and supporting local arts, crafts and artisan businesses help connect visitors to your business and connect them to the local community.  
This short video shows the growth of global tourism and why sustainability needs to be taken seriously:
Source: The Travel Foundation
What added value will it bring to your business?
Sustainable Tourism is a 2-way conversation, requiring sustainable marketing communications to educate visitors as well as adopting responsible business practises.
Tell your story and show them that you care – don't GREEN HUSH, which is walking the walk and not talking the talk:
Supporting local community
Fulfilling your corporate responsibility
Caring for your team / guests
Conserving local heritage
Increasing biodiversity
Reducing carbon and waste
Be HONEST and TRANSPARENT and don't GREEN WASH, which is talking the talk and not walking the walk:
Provide evidence and information
Don't forget – we are all on a green and sustainable journey – just tell them how far you have gotten.


Benefits to your business:
Cost savings and possible grant funds to help manage and reduce your energy bills.  See the GRANTS section in the Visit Kent – Environmental Sustainability in Tourism: Key Trends and Business Guidance document and the Kent Downs AONB Farming in Protected Landscapes for landowners to check possible grants for access and climate improvements. Also, see Into Agritourism
Long-term relevance / extend your season and attract incremental customers
Enhanced customer experience and sense of place
Competitive sustainability marketing advantage
Wider collaboration with other businesses and suppliers
 Recognised green accreditation gives you:

A competitive advantage providing marketing and promotional benefits
Membership support and advice to further improve green practices and make savings
Access to green suppliers
Consumer trust 
Green Tourism: Marketing advantage for sustainable business

PR opportunities for green and slow travel – see Kent coverage example below: 

Benefits for the visitor:
Leaving the crowds behind and travelling outside the peak travel season
Ditching short city-breaks and staying longer
Embracing slow travel – enjoying fewer and more immersive experiences rather than chasing bucket list ticks
Using public transport as much as possible 
Trying activities such as cycling, walking, paddle-boarding to see things slower and more sustainably
Avoiding crowded honey-pots, instead looking for idyllic, isolated accommodation in the countryside
Save visiting must-see attractions, beaches and outdoor locations outside of the busy summer months for a more enjoyable experience
Trying new beaches and not flocking to the well known ones
Buying local and eating local in independent cafes and restaurants
Not littering and avoiding single use plastics
Not wild-camping or using BBQ's or lighting fires unless expressly permitted
Opting for eco-friendly accommodation who are accredited for making positive changes that benefit the environment

Benefits for the community:
A thriving, reputable sustainable destination that welcomes visitors in closer harmony with the local community by reducing pressures in the peak summer months
Promotion of small communities by putting a small town or rural location on the map
Through collaboration, the community can benefit from Increased sales of local products and services too with visitors buying services from neighbouring famers, producers and retailers

Conclusion
There are many clear benefits to be had from embracing sustainable business practices that positively impact the business, the local community and the visitor. Above all, financial benefits for the business, especially in the medium to long term, as well as positively contributing to reducing your carbon footprint.  There has never been a better time to start your journey to a more sustainable future.
Hotels, B&B's, self-catering accommodation, pubs, restaurants, cafes, attractions, camping and glamping sites, experience providers, walking holiday companies, transport providers and the list goes on.. there are businesses of all sizes throughout Kent already making great progress with sustainability.  
Sustainability doesn't mean 'roughing it', it can be applied to all markets and all businesses, whether value conscious or high-end luxury-seekers.  There is no minimum entry requirement or barrier against any kind of business to implement new sustainable tourism initiatives. 
There is a wide array of small businesses across Kent and in the Kent Downs AONB who already demonstrate the principles of Sustainable Tourism.  Some have shown their commitment by signing up to the Kent Downs'  Landscape Promise to Respect, Protect and Enjoy the Kent Downs or have achieved Green Tourism accreditation but there is great scope to increase participation.  The sustainable tourism sector in Kent is far from saturated.
Therefore, opportunities exist for more businesses to adopt and to communicate their sustainable practices.
Kent Downs AONB Management Plan – Sustainable Development
Travel Trade:
Increasingly the travel trade is expanding their range of sustainable UK experiences and accommodation.  Taking the step and making the investment to improve your sustainability credentials can mean incremental bookings via new third party distribution.  You can become travel trade ready with free resources and training opportunities from Visit Britain Taking England to the World – an inbound tourism toolkit
There are opportunities in the longer term to expand Kent product, for example:
It may sound daunting – where to start, how to measure, how to fit 'sustainability' into your already crowded days, so how do you manage all of your visitors' needs in a sustainable way and reduce your carbon footprint?
It is well documented that bolting on sustainability misses the point completely and simply won't yield the results you need.  
Take time to go back to basics and understand both you and your customer's priorities and importantly, only focus on what  you can feasibly influence.
We have seen a greater demand for UK domestic holidays as a result of COVID-19.  Whilst things may change again as markets open up, there are many more responsible consumers actively looking to reduce international flights, wanting to travel sustainably in the UK.  Make this your starting point…
There are many simple, practical steps that you can take.  Here is a selection of UK based businesses to reference so that you can implement changes yourself or you can 'ask an expert' to get professional support. 
Minimising food miles – Surrey, Sussex, Kent: where to eat, recipes, farmers markets, shops
Collaborate with local food producers to your offer guests locally produced ingredients and food – e.g. bagon, sausages, eggs, bread, ice-cream, milk to purchase at campsites and self-catering accommodation  Produced in Kent food & drink members
Offer local produce (including beers/spirits and wine) menus in cafes and restaurants.  Promote eating in season and in county – especially in the Garden of England Produced in Kent
Promote alternative forms of transport or getting around when guests arrive e.g cycle hire, kayak and SUP guides, walking trails or local rail and bus transport – Good Journey – car-free days out and Kent Connected
Be aware of the Last Mile challenge for visitors to use public transport from door to door. Promote green transport options from the major arrival and departure points.  Work around the final mile is a great way for you to promote this and to reduce visitors' carbon-footprint
Promote biodiversity by creating places for wildlife to inhabit – Start rewilding even if you have a smaller piece of land,   Kent Wildlife Trust
Display local artists, photographers to create a sense of place – Find your Space for…Exploration
Seek free advice and plan for change – e.g. accommodation is seen as a key area to adopt more sustainable practises.  Visit Britain offer specific advice via Sustainable Tourism Management Good Practice Guide
Communicate your sustainable credentials clearly on your website, in your social media and all your marketing activities.  You can also look at sustainability filters on web listings and publish your company sustainability strategy/pledge – 10 Tips to Effectively Market Your Company's Green Business Credentials
Be individual – there isn't a one-size fits all, so understanding and communicating what appeals most to your specific market and target consumer type will be useful and more effective.  Tailor your messaging and let your personality shine through.
Promote off-season and slow travel – plan off-season content and promote seasonally rather than focusing on one main campaign to attract visitors in summer.  Messaging around escaping the crowds also links well to post COVID-19 as customers look to avoid crowded places, and will support consumer confidence.
Tourism Hotspots and off-Season Travel
With destinations and attractions experiencing the impacts of overtourism, many places are being classed as 'tourism hotspots'. Destinations and travel companies are looking to promote holidays and visits in the shoulder season, as overcrowding can cause significant damage to natural and historic sites, as well as to local communities. Management of group visitation in these hotspots is also important and dispersing visitors into wider areas through collaboration with other organisations can aid with this, in addition to approaches such as de-marketing during certain times of the year. To implement this, some organisations have ventured into using heat maps and location data in an attempt to monitor this and to redirect visitor flow. Due to the impact of COVID-19 the mounting pressure on many tourism hotspots will have eased, although this may have created issues in areas elsewhere. However, it is vital to continue to protect these areas and to focus on promoting out of season trips, but also to ensure the environment and public health is protected by managing the dispersal of visitors.
Source: Visit Kent – Environmental Sustainability in Tourism: Key Trends and Business Guidance 
Case study – from a member of Green Tourism:
Member's Experience of GreenCheck 
(NB) This is not a definitive list and is for guidance only – please do your own homework to find out what is most appropriate for your business.
Business Plan for a Sustainable Future:
The Travel Foundation suggests mapping out your business model – to stimulate ideas around sustainability.  Bring together people from across your business or supply chain to share perspectives.  Examining your business model will show you where sustainability may be integral to your business and help to identify opportunities for creating more value as a company overall – social and environmental value as well as financial.
6 areas that form your business model mapping are: 
Who are your customers?
What defines your company culture?
Who are your key contacts – business partners, suppliers and networks – how can you strengthen relationships?
What are your core products/services/activities and the impacts they create?
How do you communicate and interact with customers, suppliers etc.?
Culpability, what are your biggest risks and material impacts?
You can prepare and work through your own business mapping and sustainability check-list or seek support via a respected green accreditation organisation, as promoted by Visit England (Green accreditation schemes): 
In conclusion:
Make a plan
Don't bite off more than you can chew – keep it simple and be realistic
Start with one issue or one supplier at a time – go for some quick wins
Work with other like-minded businesses and suppliers – collaborate and local partnerships are best
From the outset, look at how you can integrate sustainability with other success criteria to make sustainability 'business as usual'
See this as a positive step forward that will serve you well in the long-term and attract more incremental business on a year round basis
Case study – from a member of Green Tourism:
Member's Experience of GreenCheck 
(NB) This is not a definitive list and is for guidance only – please do your own homework to find out what is most appropriate for your business.
Here are seven local Kent based case studies from across the sector for reference and inspiration.  Also, one international case study who is striving to tackle over tourism.
Accommodation Providers
Sustainability take-aways:
Green Tourism GOLD accreditation clearly communicated and demonstrated on their website

Fully eco-hostel
Fully eco-campsite

Promotes alternative transport
Promotes and uses local produce
Promotes local attractions and businesses
Active steps to support biodiversity
Leaving the weeds under hedges unsprayed this has greatly increased the stock of natural insect predators, we seldom use sprays for pest control now.  These efforts have made a huge difference to the wildlife on the farm.  there is one big drawback – rabbits everywhere!
Sustainability take-aways:
A dedicated GREEN TOURISM website page covering:

Sandhurst being a fair trade town
Recycle and reuse policy 
Energy and waste efficiency policies – low energy lightbulbs, boiler, thermostatic radiator valves, insulation, environmentally friendly paint, gathering rainwater for the garden, composting kitchen waste
B&B – 'towel agreement', drip-free taps, chlorine free cleaning products, recycled loo and kitchen roll
Own chickens, grow raspberries to make their own jam for guests

Promotes local attractions and businesses
Keeping the heritage of the forge alive to create a real sense of place – sharing the story of moving from shoeing horses to creating art, still using traditional skills and tools, smokeless fuel coke fire and anvil.  
The Sunny Field – Beautiful campsite in Kent
Sustainability take-aways:
Back to Basics
No cars – wheelbarrows provided to transport bags
Totally off grid – no electricity hook ups
Area on the ground (per pitch) to burn logs – logs can be purchased / no collecting of firewood
No disposable BBQ's – 'due to to unsustainability of charcoal sourcing and non recycling'
Dogs allowed – but no 'Yapping or Crapping' 
Composting loos
Showers in converted horse boxes
Standpipes with running and filtered water
Fruit trees in the glamping meadow
Minimal mowing – wild meadow fields
Rewilded hedgerows – long grass and cow parsley
Shop selling local sausages and local produce
Coffee – recycled and biodegradable cups etc.
Woodfired pizza most weekends
Promotes local shops and pubs
UK Walking Holidays in Kent, England. Rambling and hiking Holidays
Sustainability take-aways:
Green Tourism Silver level accreditation (since 2006) 
Operate a Responsible Travel Policy – supportive and in sympathy with local communities
Recommend customers where to purchase local produce along their route
Encourage guests to use local services
Encourage public transport to the start of their walk
All walks are in the heart of English countryside within an hour from London via train
All accommodation is 'We Welcome Walkers'
Bushcraft Courses & Wilderness Survival Activities in Kent
Sustainability take-aways:
Small group sizes to protect woodland and enhance customer experience
Experiences extend past the summer peak season –  November Bushcraft days
Promotes, cares and preserves their 25 species of native trees and an abundance of wildflowers, woodpeckers, tawny owls, little owls, sparrow hawks, buzzards, tits, jays, stoats, foxes, weasels, squirrels etc…
Composting loos
All local food is cooked from scratch in the woods
Part of the Low Impact Network (https://www.lowimpact.org) 
Promote rail as a mode of transport
Teaching skills to preserve and enhance the woodland
Educating customers on conservation
Sustainability take-aways:
A sustainability pledge 
Green Accreditations: We are incredibly proud to have been recognised for our sustainability efforts by both The Gin Guide, where we received a highly commended accreditation for sustainability, and the Kent Excellence in Business Awards where we were shortlisted to the finals in the Commitment to the Environment award category.
100% green energy
Plastic free packaging
Charity partnerships
Bottle refill service
Have Sustainability at the Centre of your Offer
The Upcycled Trading Company – Folkestone
Sustainability take-aways:
Supports small businesses
The go-to shop for thoughtful consumerism in Kent
They provide unique, hand-made gifts from local makers and artisans
Whether it's stocking the handmade, upcycled and repurposed furniture and products of other local contributors or providing workshops so that customers can try their hand at upcycling projects of their own The Upcycled Trading Company supports local, and understands the importance of collaboration over competition
Case Study – International
Tackling climate change and dealing with the problems caused by extreme over-tourism:
Source: The official tourism website of the City of Venice
Sustainable Venice
Venice is the only city of its type in the world and a UNESCO World Heritage Site representing a cultural and natural asset of exceptional value, demanding its preservation and transmission to future generations.
Sustainable tourism – not altering the natural and artistic environment, and not obstructing the development of other social and economic activities in harmony with the daily life of residents – is necessary to preserve the extraordinary beauty and uniqueness of Venice.
#EnjoyRespectVenezia is the City of Venice's awareness campaign designed to direct visitors towards the adoption of responsible and respectful behaviour towards the environment, landscape, artistic beauties and identity of Venice and its inhabitants. The objective is to raise awareness of tourist impact, with the belief that responsible travelling can contribute to sustainable development.
What is Sustainable tourism?
Sustainable tourism is tourism committed on the one hand to generating a low impact on the surrounding environment and community by acting responsibly and on the other hand it is committed to generating income and employment for the local economy, aiding social cohesion. Undoubtedly, it is getting harder and harder to reconcile the need of generating income for the local economy and at the same time preserving the environment. Too little tourism and the city cannot live. Too much tourism and the city cannot live the same. We think that the solution has to be a different kind of tourism.
What does sustainable tourism mean in practice?
Seasonal and geographical distribution: a more even spread of visitors reduces pressure on natural environments and on communities, and maximises the economic benefits. Venice tailors its marketing campaign to encourage a spread of visitors throughout the year and around the country, e.g. Detourism campaign.
Greener transport: Transport is central to tourism, but it also weighs upon natural resources and influences our global environmental impact. Venice encourages visitors to use public transport and innovative development of cleaner forms of transport.
Understanding the impacts: We need to work with partners to measure the environmental and social impacts of tourism, in order to ensure that tourism development brings a positive experience for local people, tourism companies and the tourists themselves (e.g. ETIS project).
Greener accommodation: All accommodation providers should minimize their waste of energy and water use. The City of Venice encourages businesses to reduce their environmental impact.
A sustainable approach to tourism benefits both the city and its visitors. Visitors benefit from a sustainable approach to tourism through better links with local communities, a high quality tourism experience and a natural and built environment that is cared for. Becoming a sustainable tourism destination will give Venetian tourism businesses a competitive edge by generating greater community support for tourism, achieving cost savings and creating new marketing opportunities.
Further Reading and Resources
Useful Social Media to follow:
@KentDowns
@KentConnected
@ExploreKent
@GreenTraveller
@GreenTourism
@thesustainabletraveller
@responsible_travel
@goodjourneyuk
Don't forget to also follow your competitors, you'll be amazed at what you can learn from them!