Kent Downs AONB & Visit Kent EXPERIENCE Business Training Resources
Theme three: Local Distinctiveness and Storytelling
EXPERIENCE is a €23.3 million project co-financed by the European Regional Development Fund (€16.1 million ERDF) through Interreg VA France (Channel) England Programme 2014-2020 Interreg VA France (Channel) England Programme 2014-2020. 
It aims to bring 20m visitors to project partner regions in the UK and France including Kent over the next few years by reinventing the way the economy, environment, communities, and brands interact – focusing on sustainable, low-impact tourism activities to secure the future resilience of our natural and cultural assets.
This innovative 4-year project is designed to break the seasonality cycle by simultaneously addressing the five challenges of growing visitor numbers between October and March.  The project is achieving this through various activities and initiatives ranging from; research, analysis, business 'net-walking', training, workshops, communications, marketing and promotions to consumers, local businesses and travel trade and aims to leave a long-lasting legacy that drives incremental tourism business whilst minimising the environmental impacts of attracting additional visitors.
The development of these three new and complementary thematic training resources is a key element of local business engagement. They are designed to support local SMEs, farmers and landowners to expand and diversify to meet the needs of visitors to provide incremental earning opportunities whilst respecting and promoting the Kent Downs AONB Landscape Promise and the protected landscape of the North Downs Way.  
The scope of each resource entitled Sustainable Tourism, Into AgriTourism and Local Distinctiveness & Storytelling is to provide practical business advice that can be easily implemented in part or in full that is supported with signposting to current and relevant resources. The inclusion of relevant case study materials is designed to connect businesses to success stories in Kent and to promote collaboration and the benefits of working with other businesses to enhance the visitor experience.  They celebrate local food, drink, history and cultural activities and promote lesser known locations to add value and extend the season through experiential tourism and successful and sensitive diversification.
Local distinctiveness is simply the story of our everyday surroundings; the landscape, buildings, people, literature, art and wildlife that give meaning to the places we know. Sense of Place is the communication of these rich and unique cultural assets.
Kent Downs protected landscape and North Downs Way National Trail
Covering a quarter of Kent, the Kent Downs AONB is a protected landscape and it is especially important that we consider the impact of tourism.  
What makes sense of place in the Kent Downs AONB and the North Downs Way, making the most of its location in the county of Kent? A wide variety of biodiversity-rich habitats, famously traditional farmed landscape, chalk streams and wetlands, extensive and ancient woodlands that create dramatic views of striking Kent Downs landforms entwined with 1000s of years of human activity and heritage that still resonate with today's modern visitor because of the thriving and vibrant communities living and shaping the landscape now.  
Within the wider Kent destination the EXPERIENCE project is helping businesses in the Kent Downs and North Downs Way to develop sustainable new products with a view to creating a successful tourism cluster in the protected landscape. Tourism clusters bring about local and national competitive advantages, improvement of the area as a visitor destination, better business processes and more effective collaboration to bring benefits to the local population. Respecting the environment and bringing economic gains to businesses directly and indirectly related to tourism.
These resources tell the story of the landscape of the Kent Downs AONB and ultimately celebrate the all-important sense of place that connects each individual visitor to the area and enhances their experience whilst being sympathetic to the local landscape. They have also been designed to complement Visit Kent research and cover practical matters from access, transport and development, particularly in rural and/ or protected landscapes.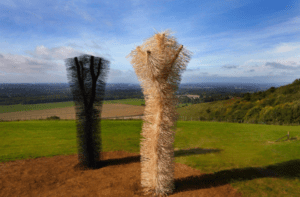 The homogenising effect of a mature tourism industry such as ours, is affecting the individuality of places: it is easier to adopt a "something for everyone" approach, then developing meaningful and unique countryside experiences that also tell a story.
Local distinctiveness is a dynamic concept, both as a means of ensuring the prosperity of a destination through focusing on what is different, and as a means of supporting and enhancing the qualities which make the place special for local people. It is not about preserving the status quo – a view frozen in time, but brings together symbols, stories, legends and festivals alongside that which is visible – church spires, hills and hedgerows.
Local distinctiveness is closely linked to the environment, the economy and the social ambience of a place – all factors contributing to a sustainable destination. For the tourism industry, local distinctiveness may be one factor in helping a visitor choose that destination over another. For others, local distinctiveness is the main reason for the trip. It is, therefore, important to define what it is and understand its potential significance with opportunities for sustainable growth.
Rarity, authenticity and enduring value are key features of local distinctiveness.
Special landscapes and natural areas, like the Kent Downs are also locally distinctive because they are the result of a complex history between people and nature, interpreted by writers and painters and animated by local customs. The Kent landscape is still shaped and managed by those living and working here.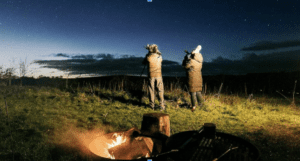 There is 'time depth' to the Kent Downs, influenced by thousands of years of human activity that has left a distinctive mark on the landscape. Combined with a geology that determines fauna and flora, what is produced and traded, but also dramatic views and historic landmarks that invite leisure interaction. 
The long distance North Downs Way National Trail is a landmark feature but also locally distinctive because of these unique features:
The Trail is a modern-day pilgrimage through Surrey to the Kent Coast at Dover.
It passes through two AONBs: the Surrey Hills and the Kent Downs.
The Trail follows the famous Pilgrims Way from Winchester to Canterbury, linking two of England's most beautiful cathedrals and these historic cities.
The distinctive links with St Thomas Becket at his shrine in Canterbury. 
These factors combine with other distinctive elements of landscape heritage, such as the high chalk ridge of the North Downs, to create a package of local distinctiveness that is ongoing and cannot be found elsewhere.
The value to your business
The benefits for the business owner and manager are varied and complex. 
A distinctive place in a busy market 
The freedom to create a product or experience that can be delivered to suit the needs of the business. 
A new and memorable way to market existing and heritage products.
The product or experience can be developed in any direction necessary to fulfil a unique purpose, or tell a special landscape or heritage story.
It can provide additional, complimentary income
By encouraging visitors to slow down, to stop, to linger, encourages longer stays and increased spend is possible throughout the year.
It could tap into otherwise under-utilised talents and skills
If done well, local distinctiveness brings appreciation, enjoyment and understanding that may encourage wider support for the sector and more careful consideration to ethical and sustainable shopping habits. 
It can foster an appetite for local food and drink.
It can foster an interest in arts and crafts 
It could further protect natural and heritage assets or provide an incentive to do so.
Building sustainable relationships 
Businesses value the opportunity to interact with their customers, through the cultivation of meaningful and rewarding relationships. Doing this through stories will bring much satisfaction and positive word of mouth recommendation.
Stories are the currency of ordinary history – our history. And it's the small details that spark the telling; a line of trees that marked a boundary, the name of a street, an old mill pond or grave site give us the starting points from which to share a landscape story. 
Potential visitors are increasingly expecting a memorable experience that offers active learning and enrichment, whilst interacting with 'real people' to better understand and interpret the character of a place. It offers 'that place' the opportunity to promote their small businesses to niche markets using sense of place as the communications umbrella. 
It is also important to use language that speaks of your location through your knowledge and love of your place in the landscape. This is not about 'something for everyone'.
There are a number of business offering experiences that reflect the sense of place of the Kent Downs and can be found here as well as the New Into Agritourism resources. 
The two included below are excellent examples of how a village community and a business are using their local distinctiveness and story telling to their best advantage. 
Who has become rural-ready?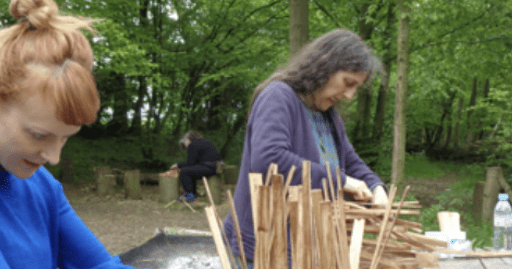 Jack Raven Bushcraft
With access to around 60 acres of beautiful ancient broadleaf woodland in a designated AONB, their bushcraft, survival and wilderness-living courses are perfect for those wanting to learn new outdoor skills, foraging, herbal remedies, traditional woodland crafts, corporate team building activities or having fun with nature.
The Local Distinctness opportunity: Placing a strong emphasis on natural history, woodland management and conservation throughout their teachings as they believe that this knowledge should inform everything we do in bushcraft, both in the UK and abroad.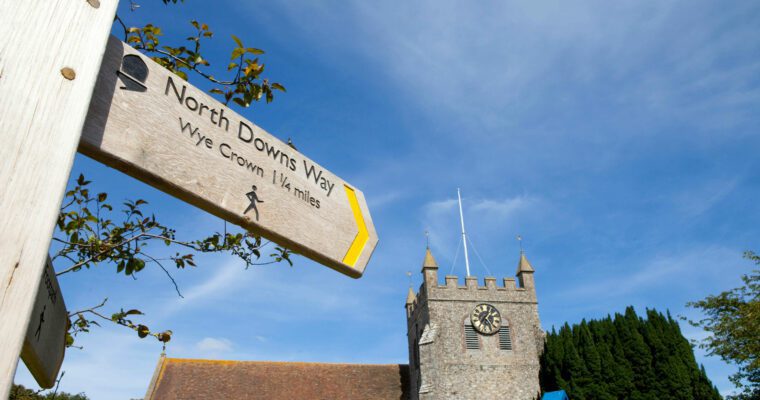 Chilham and Wye
Two villages with close-knit communities with a shared affinity for the land, a passion for local produce and for sustainability. It is also a charming historic area to visit and popular with North Downs walkers.
The Local Distinctness opportunity: an historic setting faced with the pressures of development and growth have managed to develop products and experiences that reflect the heritage and distinctiveness of the area through food, farmers markets, heritage, events, retail, and accommodation visitor offers. 
What may seem everyday to you, could well be the trigger for a visit, a longer stay or return because it is fresh and new.
It all starts around your business and involves taking time to consider what your target markets would be interested in and what is relevant to them. Being focused on what you can effectively use as part of your business that complements your core offer will find traction.
Don't reinvent the wheel
Start with the Wikipedia page for your local area to identify the assets and features
Contact your local history society (every town has one), and ask for local information – don't overlook people, links to the wider region and country for example: pilgrimage routes to the Continent. 
The Kent Downs AONB is a distinctive landscape and has information on their website.
Choosing how best to use it
If you already know why your area is special and have the evidence base of experiences and assets, the next step is how to use this for your business?
Visitors rarely travel to do one thing; their visit will of course depend on why they are travelling. By linking your business to the local (landscape) offer, you give more impact to your communications and potentially appeal to a wider audience.
View the assets and special qualities through the perspective of a visitor as you walk the lanes, visit the high street and climb the hill. 
How can this be communicated? Visually, with sound, a story, a descriptive paragraph?
Is it exclusive or hard to access?
Is it unexpected, or just plain weird to find in your area
How can visitors get involved, or what response would be appropriate. 
Knowing where it aligns with other businesses, brands or people increases the opportunities to collaborate and create a new itinerary.
Helping visitors uncover specialities 
Local food products have enjoyed increased prominence in recent times, so much so that some food can be the sole draw for a visit by themselves. Seasonal food, with low food miles, freshly picked, PYO, heritage crops or grown to benefit wildlife, will attract visitors and enhance a business's offer. Think more than just food & drink: there are plenty of great examples of other local products, including arts, crafts and gifts that can also contribute to the character of an area. 
Sourcing and buying local within your business and promoting the usage of products to your customers is not only sustainable, but will appeal to those seeking to have a small "travel footprint". Look around you to see what your neighbours and community are talking about and sharing.
Offering your visitors access to products and experiences from the local area: in person and online. 
Providing information on producers and outlets before they visit
Providing on-site seasonal information 
Are there any volunteering opportunities, learning experiences and courses, traditional cookery, tastings, foraging and bushcraft skills. 
Collaboration 
Sense of place is one of the best platforms to partner with neighbouring businesses by proactively making connections with other to; 
Consistently promote the wider offer, adding weight and marketing reach.
Develop joint services to make it easier for visitors to experience the special qualities:  transfer services, staggered opening times, suggestions of alternatives when businesses are busy or closed. 
Develop specific joint promotions that reflect the changing seasons.
Images matter!
They will bring your story to life. On their own, through a platform such as Instagram, or as part of a wider piece combing words and images.
Become a local champion
Armed with local knowledge and expertise many business owners become local ambassadors, volunteering themselves to be part of the collective voice for the Kent Downs.  You could consider: 
Joining the North Downs Way Ambassadors programme.
Become a Kent Greeter. 
Share what you know and love with B2B familiarisation trips, on your social media platforms and with other local businesses. 
Take the lead to maintain the area, e.g. litter or campaigning for conservation, etc. 
Share what you are doing with your business community. 
Develop Themes
Film locations – Ian Flemming, Moonraker, Chitty Chitty Bang Bang amongst others. 
Locate places where writers and artists gained inspiration. For example; Terlingham Vineyard where on each bottles is Folkestone White Horse by local artist Charles Newington that he designed in 2003 and which can be seen on the hill above the Channel Tunnel entrance.
Highlight your town's history and your place in it. 
Explain the natural features of Kent Downs and where these can be seen. 
Communicate and link to local events and festivals including heritage, literature, food and wildlife. 
Link to local producers on the Kent Food & Drink website.
Get a calendar and record unique seasonal opportunities every month of the year and celebrate them!
Enjoying the Countryside responsibly 
The vast majority of visitors to rural locations travel by car, adding to congestion, pollution, parking – actions that are not always sensitive to the host community. 
Giving visitors choices about how to mitigate these impacts, providing alternatives during the busy times, assistance (yours or through a third party), with navigating the 'final mile'. 
Offering pick-ups or drop-offs at stations, ports or airports for your customers 
Providing information on key walking and cycling routes 
Offering access to secure parking areas whilst customers are with you 
Offering access to secure bike parking & facilities such as showers 
Running or facilitating cycle hire or other equipment to promote non-car use 
Offer car-free itineraries for popular activities in the local area 
Support local sustainable transport schemes (e.g. electric bikes or cars) 
Work with other businesses to provide transfers between you (e.g. between accommodation and local pubs/ restaurants).
Sustainability must be front and centre of all new developments – hard infrastructure or soft activities. There is a wealth of practical information in the new Sustainability resources that are part of the business resources. 
Below are examples of best practice nationally and local to Kent. There is an interesting recent appraisal of the current and potential economic contribution of tourism to supporting farm businesses and a healthy natural environment in the Shropshire Hills 'Stepping Stones' AONB area. Included are useful suggestions for how to collaborate and work with travel intermediaries to develop and market new experiences. 
Over recent years, tourism businesses have worked together to develop the Forest of Bowland Area of Outstanding Natural Beauty as a destination renowned as a place to enjoy and keep special. Virtually all of the tourism businesses promote its unique sense of place, passing on their knowledge, enthusiasm and affection for the area to their visitors. They are generating more income by 'selling' a sense of place. A visitor survey showed that over 80% of increased numbers of visitors recognised the Forest of Bowland as a destination of scenic beauty with natural and historic places to explore and enjoy. 
A Creative Pilgrimage : In 2019 a group of Kent artists set out on a pilgrimage following the route of the Augustine Camino between Rochester and Ramsgate. The group planned to take a year to cover the 67 mile journey, however, they had to pause at Painters Forstal due to the first lockdown. They are responding to the route and the concept of pilgrimage in their art. The result will be a series of exhibitions, a book as well as talks and workshops. The first exhibition took place in October 2020 at Chartham Vineyard Gallery as part of Canterbury Festival. The pilgrims resumed their journey on 20 May 2021 from Painters Forstal. Information on the route can be found here. 
Telemark: "Independent and Stubborn" where local is not enough. You have to be good! This case study looks at how a region within a popular destination can define its offer through local distinctiveness and storytelling pivoting around this positioning: "For many in the UK, due to a changing demographic and urban lifestyles, the food tradition handed down through the generations has largely been lost."
When businesses in Austin, Texas were asked what they wanted to say about their city, they came up with the slogan "Keep Austin Weird"  by keeping quirky shops and unique music. This slogan gave a clear message and a vision for the future of Austin too. When a book retail giant wanted to set up shop in their city, the city planners said 'no!". The small bookshops stayed open, and so Austin preserved its weirdness. And "Keep Austin Weird" is more than a slogan; it is a recipe for economic success. Research showed that for every $100 spent in the small independent bookstore, $44 stays in Austin. But for every $100 spent in the large shop, only $30 stays in the local economy.