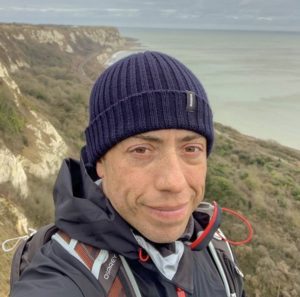 Tom Sigler, AKA @weekend_hiker, has gained over 25,000 followers by sharing his walks and viewpoints on the photo-sharing app, Instagram. Tom completed the North Downs Way National Trail earlier this year, and we wanted to know all about how he got on and how he did it.
How long have you been walking as a hobby? 
My parents managed to instil a joy of walking in me from an early age. As a family, we would often go for 1-2 hour circular walks, finishing up at a country pub for lunch, sometimes with another family for company. Last year in summer, I decided to take things more seriously in the walking department by getting much fitter, exploring as many new places as possible and just seeing how far I could walk in a day!
What do you enjoy most about walking?
I love discovering new places, taking photos of interesting things I see along the way, learning about local history and myths, and feeling a sense of accomplishment when completing a decent long walk. It is a perfect time to reflect, get away from the hustle and bustle of everyday life and wind down from a busy work week.
Why did you decide to walk the North Downs Way?
In October last year, I did a sunrise circular in the Surrey Hills starting at Box Hill, going through Ranmore Common and then back through Westhumble. It was beautiful and part of the route followed a small section of the North Downs Way. Intrigued, I thought I would look up what the North Downs Way was all about and, discovering its history and route, thought I would make a start on it section by section and see where I would end up!
How did you plan your route?
With the North Downs Way being a national trail, I first looked up the route descriptions on the National Trails website, which was extremely helpful! It has a list of suggested sections, complete with distances. I also signed up to the Ordnance Survey website so that I could look up the appropriate 1:25,000 maps to get an idea of the terrain for different sections of the trail.
How did you do it?
I would look at the weather forecast for the weekend and hike on which ever day was due to have fairer weather. If I managed to recover quickly from the last section, I would aim to increase the distance walked on the next section so that I could push myself a little further. By checking the Ordnance Survey maps for villages/towns that the trail would go near, I would then do some research and find a pub for the end point of the next section.
Once planned, I would drive early on a Saturday or Sunday morning, park up as close as possible to the end of the previous section of the North Downs Way and start just before sunrise – to make the most of the daylight and hopefully get some lovely photos of the sunrise! The walk itself would be a single straight section and, once the pub was reached and I felt refreshed, I would order a taxi to take me back to where the car had been parked.
In terms of distance, I managed to do anything between 19km (12 miles) and 53km (33 miles) in a day, depending on whether I was walking solo, the weather and if I had any other plans for later that day.
How long did it take?
The North Downs Way splits into 2 sections at Boughton Lees in Kent. The south section goes along the coast to Dover via Folkestone, whereas the north section goes through Canterbury before reaching Dover. I attempted the south route first (201km / 125 miles) and completed it in 7 days. Once done, I headed back to Boughton Lees and completed the north section in 1 long sunrise to sunset hike (53km / 33 miles).
What equipment did you take with you?
Backpack – Osprey Talon 22. Very comfortable, distributes some weight on to the hips as well as your back, vented back and enough room to take everything you would need for a full day's hike. Definitely recommended!
Boots – Meindl Bhutans and an older, much lighter Meindl GoreTex model. The Bhutans are very hard-wearing, excellent leather hiking boots and were great for sections with tougher terrain; recommended for distances up to 25km. For any sections beyond 25km, I would highly recommend a lighter pair of boots, made with GoreTex to reduce the likelihood of knee/leg pain; in my case I had a summer pair of Meindl GoreTex boots.
Trousers – Mammut hiking trousers and waterproof over-trousers. Extremely comfortable and warm enough even for those freezing winter walks! If your budget can stretch to it and, if you don't mind walking in the rain, then some lightweight waterproof GoreTex over-trousers are highly recommended too!
Socks – Falke TK2 socks for summer walks and TK4 socks for winter walks. Provide excellent cushioning and comfort to help prevent blisters. I am such a big fan that I wear these on my daily commute too!
Base layer – Icebreaker merino wool base layer (175/250 weight depending on the temperature). Extremely comfortable, sweat wicking, odour limiting and quick drying.
Fleece – if it is particularly cold (less than 4C), an extra layer is a must. You can always take it off and pop it in your backpack if it warms up, but if you're caught without one, you'll be a bit stuck!
Outer shell – Mammut. Something windproof, waterproof and if possible, made out of GoreTex too so that it is super lightweight.
Rock tape – extra blister protection for toes. When going the extra mile, this stuff is incredible. I wrap those toes that are most susceptible to blisters on each foot before setting off on a hike and this prevents blisters from forming altogether!
What were your must-have items to take with you?
Smart phone – to take photos and allow route maps to be looked up.
Battery pack – just in case the smart phone decides to run out of juice.
Water and snacks – it is super important to keep hydrated so that you can keep going.
Cash – for the taxi back to the car.
What were your top spots along the way?
Top viewpoints – St. Martha's hill in Surrey (the views are stunning and you can catch an incredible sunrise and sunset here), Colley Hill in Surrey, the Wye Crown in Kent, the Devil's Kneading Trough in Kent and the white cliffs on the coastal section between Folkestone and Dover.
Favourite pubs/restaurants – the Five Bells Inn in Brabourne, the Dirty Habit in Hollingbourne and Mr. White's Chophouse in Dover was a great place to celebrate the end of the North Down's Way.
Did anything surprise you on your route?
A number of sections were very quiet with hardly anyone around, although this might have something to do with walking in late autumn and winter! I imagine it would be much busier in summer. There are some sections that cross motorways and/or run parallel to them for a while so expect some road noise on a minority of the sections.
Do you have any stand-out moments from the walk to share?
Some of the sunrises and views were gob-smackingly stunning. The coastal section between Folkestone and Dover on the southern route was beautiful and fascinating. I also met some interesting personalities on the route – Elvis and Murphy the miniature donkeys (they have their own Instagram page @elvisandmurphythedonkeys), friendly horses and a herd of cows guarding the only way out of a field!
Do you have any tips for those who are planning to walk the North Downs Way?
Take a good camera-phone or decent camera with you – there are so many incredible sights and experiences you'll uncover on the way.
Plan which pub you intend to finish the next section at – knowing that there will be a good meal at the end of a walk helps provide you with an extra push to get to the end!
Where are you planning to walk next?
Having finished the North Down's Way in February, I have since walked the Ridgeway National Trail, which goes from Wiltshire to Buckinghamshire, and made a start on the South Down's Way National Trail, which goes from Winchester to Eastbourne. I seem to be focusing on national trails at the moment!
At the beginning of June, I intend to mix things up a bit by taking part in the national 3 peaks challenge. This involves hiking to the summit of the highest mountains in Scotland, England and Wales, all in 24 hours, to help raise funds for my son's wonderfully supportive special needs school.
Thank you for sharing with us, Tom!
Follow Tom on Instagram @weekend_hiker for walking inspiration and join in his community page @myweekendhike by using the hashtag #myweekendhike.