Peter Le Feuvre and Sarah Montgomery
Location: Between Wye and Folkestone, Kent.
About: Peter and Sarah are two retired GPs who have lived on the North Downs Way for 16 years. They are passionate about its interest, diversity and fragile beauty.
Meeting at Sandling station we will lead people in a circular walk over the M20 to one of the highest points on the Downs, down into Postling village and through a carefully managed farm to Westenhanger station. On the way we will pass the castle where the Knights who murdered Thomas Beckett stayed the night before they rode to Canterbury, enjoy panoramic views across the channel to France and over Romney Marsh to Hastings, pause in a church that has been the centre of village life for more than 1000 years and visit the source of the East Stour river. In spring we will identify seven species of orchid and other rare plants, and all year round we will spot wonderful birdlife and animals. We will see what is being done on local farmland to restore and improve habitats for many species. The walk can be extended or shortened according to requests and include a focus on early Christianity in the area and / or experiences of local people in the second world war.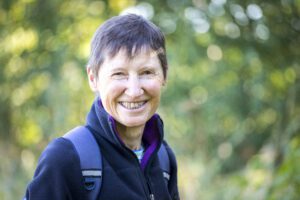 "We live within the Kent Downs Area of Outstanding Natural Beauty and we delight in its beauty and wildlife and want to share this with others and show them how to enjoy them responsibly." Peter Le Feuvre and Sarah Montgomery.
Services offered: Guided circular walks.
Suitability: Adults and families with children.
Contact:
Telephone:
Email:
Website:
---