Creative Pilgrims
Let the Creative Pilgrims welcome you into their world - the stunning landscapes of the Kent Downs. Grab a sketchbook and explore an ancient church, take in spectacular views and capture memories - by drawing them! You'll learn to find creative inspiration in nature, improve your art skills and rest and reset, the Creative Pilgrim way.
Half a day/Whole Day
£50 half day, £90 whole day including food
Dover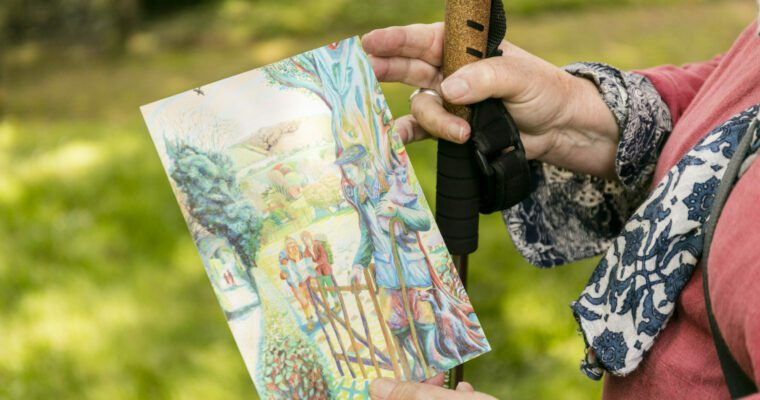 A Creative Pilgrimage
https://liz0960.wixsite.com/acreativepilgrimage
Follow on:
The Creative Pilgrims led by Alexandra le Rossignol and Liz Garnett, are a collective of local artists and educators. They will encourage you to slow down – taking time to discover and respond to the Kent Down's nature and history, through simple mark making and journaling to create lasting memories. As Kent's newest Art Pilgrims you will travel through time. With the help of experienced, passionate artists, you'll get to explore hidden gems within the Kent Downs National Landscape whilst getting creative with a sketchbook.
These experiences are suitable for all – regardless of whether you are a fully-fledged artist or even if you have not picked up a pencil in years. If you prefer, you can simply enjoy being able to sit or write in the peaceful, inspiring surroundings. You will be provided with all materials and a sketchbook for you to use and keep as a memento to stick things in later.
Current art pilgrimage examples are:
Stowting Art Pilgrimage Experience 
Nestled in the folds of the Kent Downs, you'll find the inspiring, quaint village of Stowting. Starting the day at The Peace Room with its surprising Delft tile fireplace where you can view an ancient Motte and Bailey which was once the meeting place for The Men of Kent.
On the full day we will continue through the fields until we meet the Pilgrims Way, where we'll treat you to lunch at the favourite local Tiger Inn. Both walks return via the church of Saint Mary's Stowting, where you can enjoy centuries-old art, including the grand 14th century stained-glass and an early Green Madonna window. Examples of the Arts and Crafts movement can be seen in the angel tiles behind the altar and the Henry Holiday windows at the back. A modern work by artist Mark Cazalet painted in 2010 reflects our present-day journey as Pilgrims. Later, we'll return to The Peace Room for afternoon tea for a half day experience and a chance to share our experiences of the day.
Saint Margaret's at Cliffe Art Pilgrimage Experience
This half day experience is a pilgrimage to discover where the Kent Downs meets the sea. A chance to explore wonderful carvings in Saint Margaret's church and to respond to the landscape and then the Bay through writing and drawing following in the footsteps of Noel Coward and Ian Fleming.
---
Currently, group bookings of 8-10 are only being taken. For pre-designed experience the price is £50 for half a day and £90 for a full day. Tailor-made art pilgrimage experiences are from £70 for a half day. Ideal for corporate, groups of friends or part of a hen weekend.
Experience locations: anywhere on or close to the Kent Downs.
---
Alexandra le Rossignol
Living in Saint Margaret's at Cliffe, Alex is an experienced educator who runs courses in icon painting and general journaling having taught art to a variety of ages. She considers herself a Pilgrim Artist loving the interaction of landscape and history and is interested in promoting the sacred spaces in the South East.
Liz Garnett
Liz is a photographer and writer with 30 years experience. She is based in the foothills of the Kent North Downs and is a North Downs Way Ambassador. For Liz, pilgrimages are about slowing down and seeing.
Map is loading...