Pilgrimage of the Chough
Join a two-day journey of transformation through Kent with the British Pilgrimage Trust, exploring Becket and his emblem, the Chough, on two iconic routes.
23rd September 2022
The British Pilgrimage Trust's Dawn Champion guides a special pilgrimage from Dover Castle to Canterbury Cathedral along the Old Way and the Via Francigena, with a one-night stay sleeping in a church.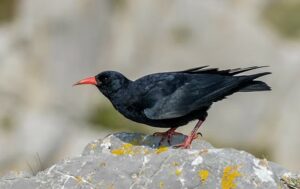 Legend tells of a crow which witnessed Thomas Becket's martyrdom, and was transformed into a Chough, with a blood-red bill and legs, as Becket was transformed from Archbishop to Saint. These charismatic birds disappeared from Kent centuries ago, remembered only by the heraldry of Canterbury and old stories. Today, the Wildwood Trust are reintroducing the birds to the White Cliffs of Dover as part of a project to transform the land for nature. As well as the familiar churches and heritage landmarks, this route includes rare wild birds, veteran trees, chalk streams, bronze age burials mounds, legendary ancient battle sites and pilgrim graffiti.