Walking in the Kent Downs with Muslim Hikers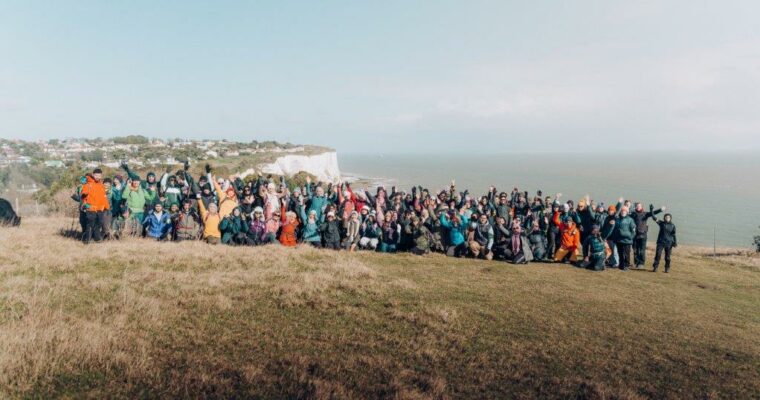 7th March 2023

Muslim Hikers chose the white cliffs of Dover, one of the most important and awe-inspiring geological sites in the Kent Downs, for their first ever coastal walk.  
By Raadia Imran with photos by Zain Lambat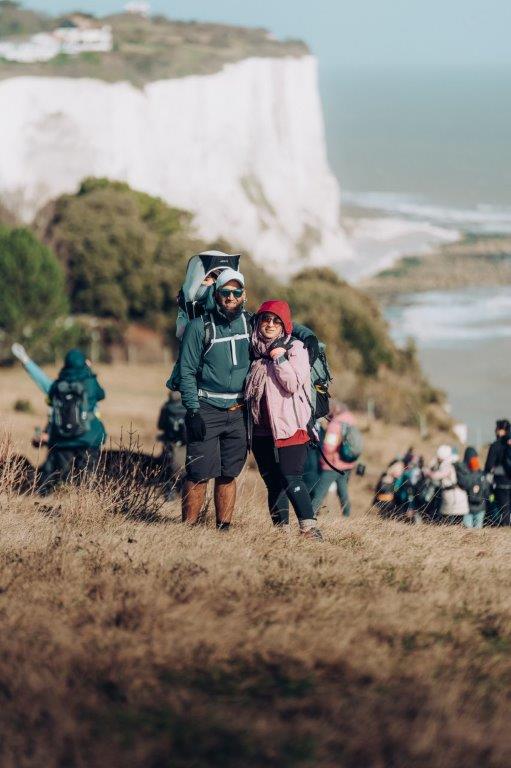 The buzz begins immediately, even before registration. The feeling of excited anticipation is palatable each time I have trekked with Muslim Hikers; it hits you as soon as you heave out of the car and join the throng of the group as they too shake off their long drive.
Pulling into National Trust White Cliffs carpark in the Kent Downs National Landscape was no different. I could see the famous, rugged white cliffs of Dover framing my view whilst the choppy sea pushed back against the cloudy, morning sky. I wanted to see more.
We made our way to the visitor centre, where we were greeted with the iconic big, bearded smile from all-year-round, short-wearing Muslim Hikers' founder, Haroon Mota. His energy, as always, was infectious and he ushered us inside; encouraging us to sign in, enjoy a hot drink and mingle before the welcome speech, safety brief and special guest introductions.
The visitor centre soon filled with Muslim Hikers' participants, who bustled around chatting and enjoying the great coffee and baked treats that the café had to offer. I made a mental note of the cream tea that was being sold, which I added to my growing list of "reasons to return to Kent Downs."
A sense of community and belonging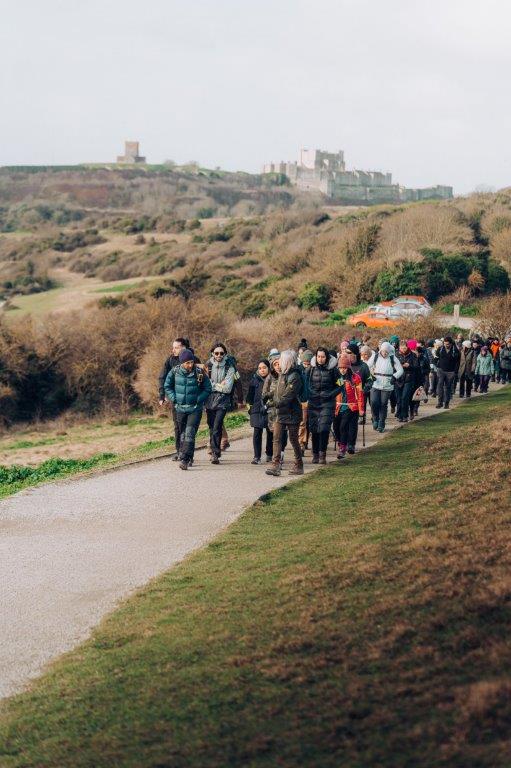 We were introduced to Ginny, the National Trust Manager, who highlighted the incredible geodiversity of the area with its multiple biodiverse habitats. We were lucky to have local experts from the Kent Downs and White Cliffs Countryside Partnership join us, who could teach us more about the 326 square miles of nationally protected landscape and its outdoor cultural heritage.
As we set off for the walk, excited to experience the stunning nature of Kent Downs for ourselves, the sun broke through the clouds. The sea glittered as rays of warm sunshine bounced off the crystal blue water. I was mesmerised.
As the sky cleared, a mountain guide pointed out that you could see the white cliffs of France in the distance! I squinted ahead, and as I turned back, I recognised a familiar face from a previous hike. I gave her my "salaam" (an Arabic greeting meaning "peace") and she smiled back joyfully. We fell into a comfortable stride together and got chatting.
Annie from Derby is a regular Muslim Hiker and she shared that it was "the sense of community and belonging" that made her book hike after hike.
She said she was especially eager to participate in this walk, because it would be her first coastal hike. She laughed that she had immediately rushed to buy her tickets as soon as they were advertised on the @muslim.hikers Instagram page.
Making the outdoors feel accessible and welcoming for all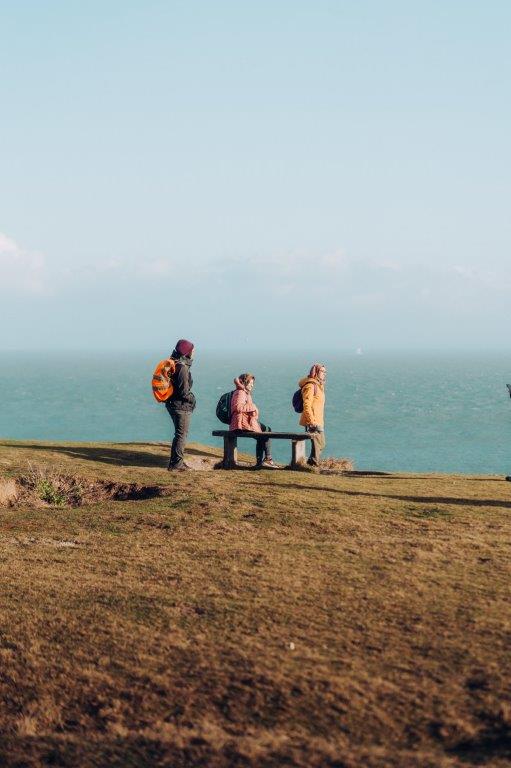 This dash to book tickets is understandable as Muslim Hikers' walking events are typically sold out in a matter of hours. Haroon shared the Kent Downs tickers were in particular demand, and 150 places were sold out in under three hours!
Annie expressed how walking with Muslim Hikers was a safe gateway for herself and friends to experience new outdoor locations, which they would not have the confidence to explore independently.
She explained that she could relax on these hikes, as all she had to do was "turn up" and then follow a trusted group where she felt "safe and accepted".
It was already becoming one of the best outdoor adventures I had experienced.

Over the last 3 years, Muslim Hikers has done wonders at making the outdoors feel accessible and welcoming for all.
Haroon said he wanted to choose "somewhere different" for February's hike and Kent Downs was "the perfect place to inspire travel and adventure".
He also shared that he wanted his group hikes to be as inclusive as possible and felt the steady walk across Kent Downs was something that could be enjoyed by all.

South Foreland Lighthouse and St Margaret's Bay
We stopped off for short snack-break at the South Foreland lighthouse which overlooks the impressive white cliffs and gorgeous seascape. This was the perfect opportunity to enjoy the scenery, take some photos and make some new friends.
Nadia from Huddersfield shared how special this hiking community has become for her and now calls the group, "my hiking family". Nadia has created a network of like-minded nature lovers who share her new hobby and also help her out with transport. Many of the participants car-share and travel together to the Muslim Hikers' destinations.
Haroon has identified that transportation is a major obstacle for many to get outdoors, and so participants have access to the Muslim Hikers' WhatsApp group and a "car-share spreadsheet", to help mobilise and connect with one another.  Others had travelled to Dover by train from London.
After marvelling at the view from the lighthouse, we walked down the cliffs and through a leafy canopy of green woodland, past a quaint teashop and over to St Margaret's Bay.
Here we watched as the waves crashed against the pebble beach. It was like a postcard with the pretty, pastel-coloured beach huts facing the topaz-blue sea. It was already becoming one of the best outdoor adventures I had experienced.
A unique outdoor experience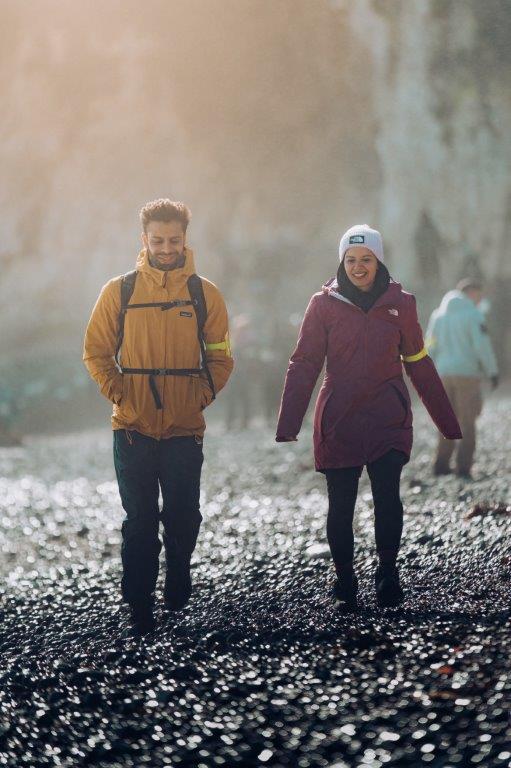 We then hiked back up and further along a more rural and country landscape for some lunch. It surprised me that we were only just experiencing the sea and the cliffs, but now here I was looking out across rolling stretches of green countryside. The same hike but a whole new experience!
All the marvelling and wondering had worked up quite an appetite and soon we came to a secret-garden-like retreat, with a quintessentially English tea shop selling fresh scones and delicious filled baguettes.
The Pines Garden Tea Room felt like a yummy little secret, we enjoyed their goodies sitting in the green gardens opposite the café, which led to the Upper Roundel. The Upper Roundel was reserved and opened for us as a place to sit and eat, but also as a place to pray our midday prayers together.
Prayers are planned and accommodated for the hikers, another reason why many, including Federica from London, enjoy hiking with Muslim Hikers. Federica, a Muslim revert originally from Italy, believes the Muslim Hikers offer a "unique outdoor experience" where she feels a "sense of ease", as she can practice Islam confidently whilst meeting other Muslims.
Socialising and enjoying views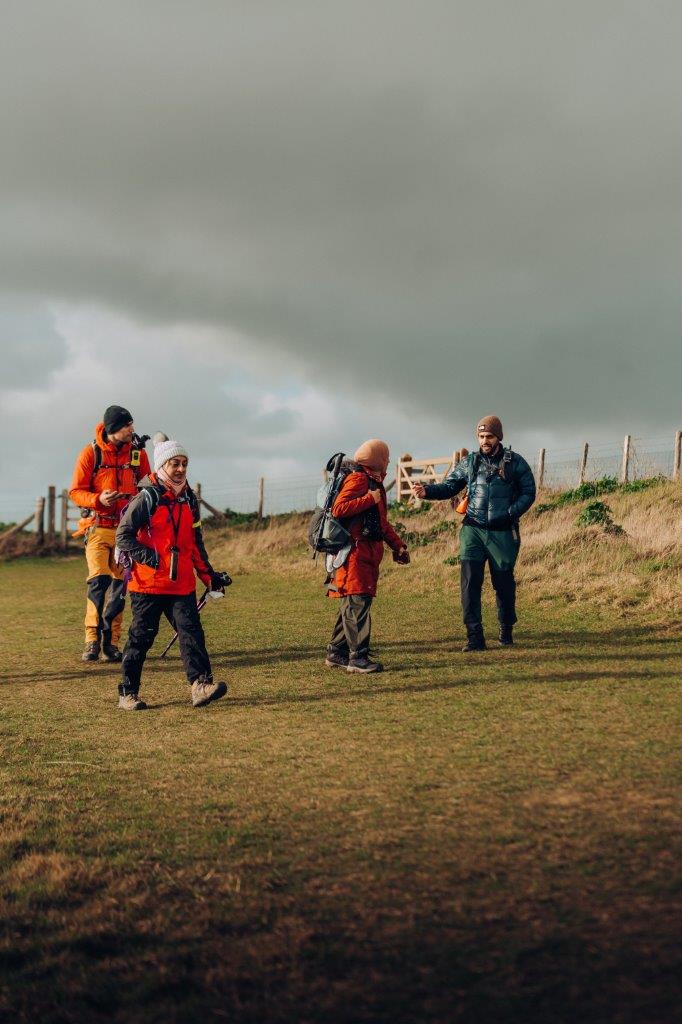 The group isn't an exclusive Muslim-only group however, and is open to people from all walks of life.
Liz and Ryan joined the group for the first time from Hastings, it was also their first-time hiking across Kent Downs National Landscape. They were full of smiles and said they had never joined such a large group to hike alongside with before and remarked that it had been "brilliant to socialise and enjoy the beautiful views at the same time".
They were alit with positive energy and said they would soon be back to explore Kent Downs and are also eager to hike with the Muslim Hikers community again.
We were also joined by Folkestone based refugee support group, Napier Friends. This group of new arrivals from Iraq, Syria and Russia were hiking for the first time in the UK and shared that it helped them to feel a connection with their new home, and it was a means of getting to know England a lot better. A statement that many hikers also identified with.
My favourite Muslim Hikers' walk ever!
I didn't want the hike to end as we headed back to the visitor centre and I felt a wave of sadness as we bid goodbye to the varied landscapes that we had seen: the sea, the cliffs, and the green fields.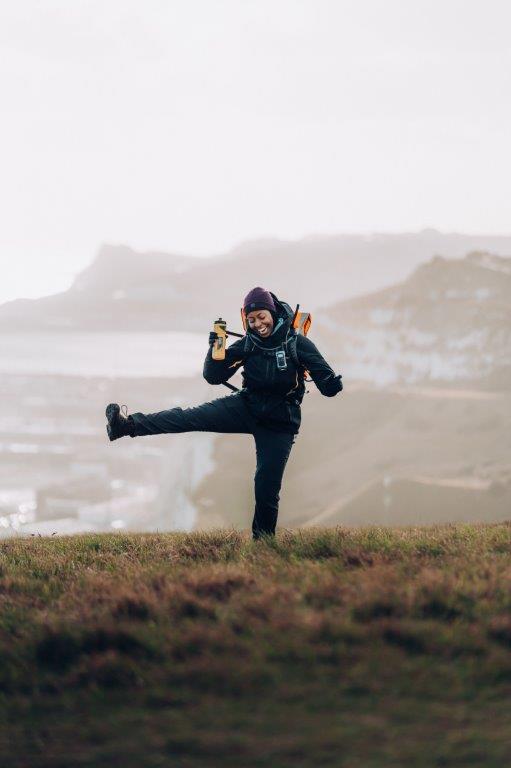 My travel companions and good friends, Atika and Hamza, a couple from Coventry remarked that this was better than their usual date-plan consisting of a meal and cinema trip. Hiking through the Kent Downs had given them "an exciting, shared experience of something new and fresh whilst enjoying the outdoors".
My husband and I nodded in agreement and have already made plans to come back in the summer with our children; two young boys who I know will thoroughly delight in the outstanding beauty of Kent Downs.
That evening, my Instagram feed was abuzz with all the photos shared by my Muslim Hiking buddies, many captioning their photos with variations of "My favourite Muslim Hikers' walk ever!"
I must admit the official Kent Downs Hike photos are my favourite to date. I sat at home the next day swiping through the images of hikers smiling at the seashore, and their faces echoed the sense of fun and wonder felt on the day.
A spectacular outdoor experience for all, sealed with solid Muslim Hikers' approval!
The journey to UNESCO status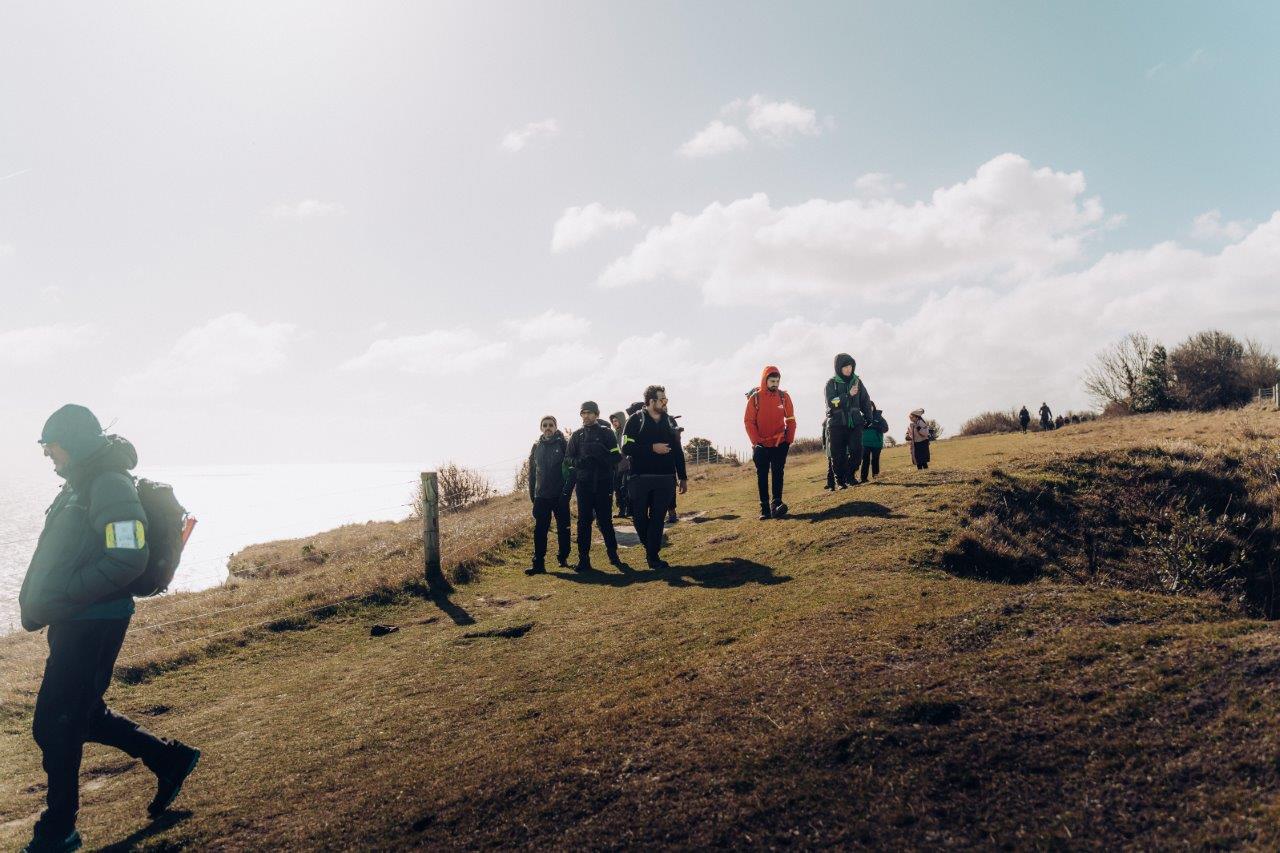 The White Cliffs is looked after by The National Trust and is part of the Kent Downs which is a nationally protected landscape  with AONB (Area of Outstanding Natural Beauty) status. A title which I soon saw for myself, really does reflect the awe-inspiring landscape that we experienced throughout the day.
Kent Downs National Landscape is aspiring to become a Cross-Channel UNESCO Global Geopark, in partnership with the neighbouring French protected landscape, a title which will truly reflect the first-class, unique outdoors experience that can be enjoyed by everyone, all-year round.
Find a route and explore the beautiful white cliffs coastline
About Muslim Hikers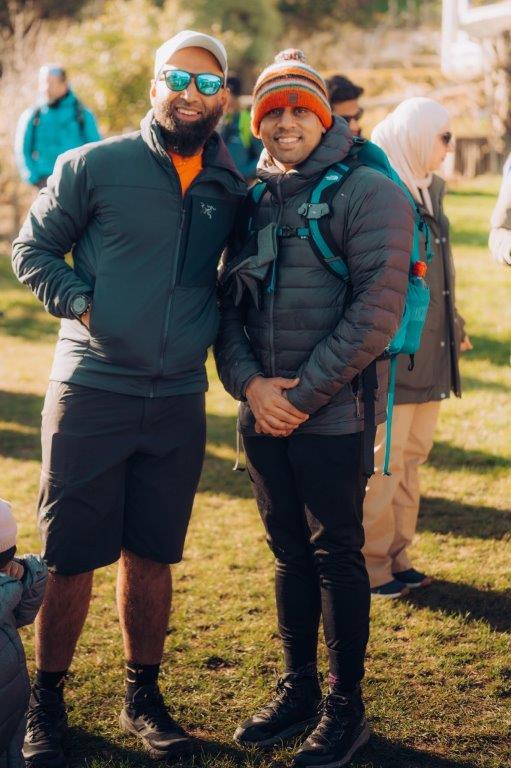 The Muslim Hikers walking group began in 2020, when founder Haroon Mota set up an Instagram page to connect, inspire and spread positivity within the Muslim community during the pandemic.
As lockdowns eased, the Instagram page and support network that grew around it evolved into a walking group, with organised events taking place around the UK.
The walks have included ascents of Snowdown, Ben Nevis, Scafell Pike, Cadair Idris, and many more classic peaks, and are designed to help people build awareness and confidence in the outdoors.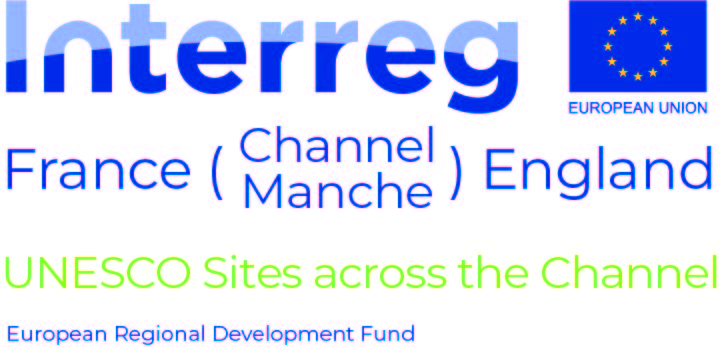 This blog was written in collaboration with the Kent Downs AONB UNESCO Sites Across The Channel project co-financed by the European Union European Regional Development Fund.
Popular articles
Searching for incredible views? Look no further! We've rounded up the best…
---
If you're looking for inspiration on the best places for some bluebell…
---
There are four distinctive hill figures carved into the iconic chalk of…
---