Ride the North Downs Way National Trail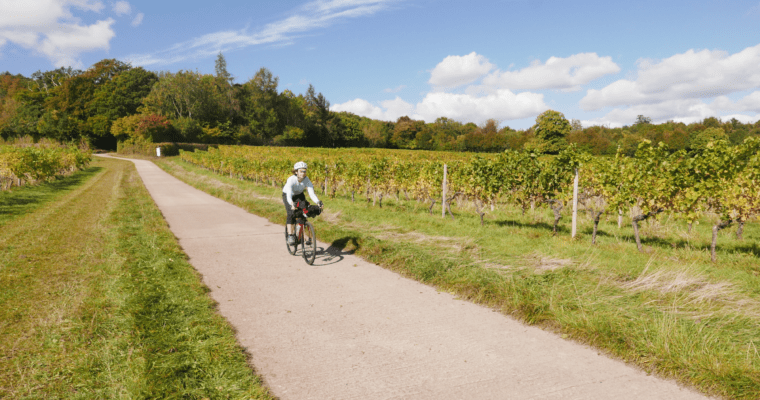 17th November 2022
The North Downs Way is now explorable on two wheels or four legs, thanks to the creation of a new Riders' Route itinerary.
The 153 mile national trail through the Kent Downs and Surrey Hills National Landscapes has undergone enhancement works in the past year to make it more accessible for both keen and amateur cyclists. The historic linear trail is now rideable, in sections, and people are being encouraged to head out this autumn and winter to discover this beautiful part of the South East for themselves on two wheels.
The Riders' Route can be broken up into three easy to manage sections thanks to a collection of new itineraries, making it perfect for families looking for a fun day out and for keen cyclists looking for a scenic challenge.
The improvement works have been carried out by Kent Downs National Landscape and Cycling UK to improve the quality and accessibility of key rural parts of the trail. Routes that were previously inaccessible while cycling have been improved to allow enthusiasts to ride the entire way, and new maps have been created to improve navigation along the trail.
The improvements have also made the route much easier to explore on horseback, and for people using mobility vehicles or pushchairs.  
Thousands of people love to walk and run along the North Downs Way National Trail in Kent and Surrey every month, so we have made it much easier and appealing for all cycling enthusiasts out there too. The route is the perfect way to experience the very best of the Kent and Surrey countryside, as you wind through lush countryside, gentle hills and leafy lanes, and are rewarded with magnificent views and numerous historic sites along the way.
The route is well served by local train stations, with a wide range of accommodation, pubs and cafes to choose from when it is time to refuel as well as cycle hire points. As we all look for more sustainable ways of travelling, cycling is a great way to get out and about in nature and discover new places.
If you want to experience the beauty of the Kent and Surrey Downs at a gentle pace, or are simply itching to take your bike for a spin, head down to The North Downs Way Riders' Route. We're open every day of the year!
Share your next adventure with us on social media, and always enjoy, respect and protect the landscape.
North Downs Way Riders' Route Sections
Popular articles
Searching for incredible views? Look no further! We've rounded up the best…
---
If you're looking for inspiration on the best places for some bluebell…
---
There are four distinctive hill figures carved into the iconic chalk of…
---