Summer Orchids in the Kent Downs
Orchids are some of the most impressive wildflower species found in the UK, with their distinctive flowers making them easy to spot. There are around 52 different species in Britain, and around 25 of these can be found in the Kent Downs AONB. This special landscape is the only place in Britain where wild orchids such as the late spider orchid and lady orchid can be found. In fact, it's the iconic chalky grassland, that's low in nutrients, combined with our warm climate that makes the Kent Downs one of the best regions in the country for orchids (hence why our logo is an orchid!).
So, if you fancy a spot of wild orchid-hunting this summer, here's our top five orchids to look out for in July and where to find them:
Bee Orchid
This distinctive orchid gets its name from its main pollinator. The shape of its flower mimics the abdomen of a bumblebee, in fact, this hardy orchid is a great example of sexually deceptive pollination. The flower emits a female bee scent, so passing male bees are attracted and pollinate the flower as they attempt to mate with it, although in the UK this orchid self-pollinates. Bee orchids flower in the Kent Downs during June and July.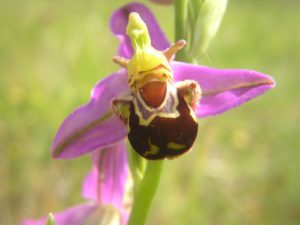 Pyramidal Orchid
This common and widespread orchid has dark pink flowers in a conical shape, which gives it its name. You can find it in chalk grasslands, fields and verges, and coastal habitats in the Kent Downs from June to August.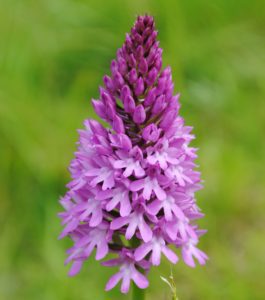 Common Spotted-orchid
Just like the name suggests, the common spotted orchid is both common and spotted! It's the UK's most common orchid, and can be identified by its leaves, which are green with dark spots. The flowers are pink-purple and attract many day-time flying moths. Look out for the common spotted orchid in the Kent Downs from June to August.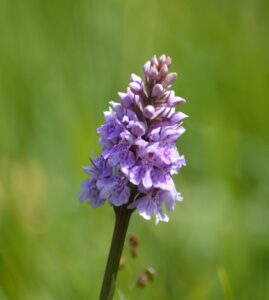 Man Orchid
The flowers of the endangered man orchid have lobes in the shape of arms and legs, giving the flowers the appearance of tiny humans. The man orchid flowers from May to July and is an incredibly rare species in the UK. It's found in scattered locations in the south-east of England, including the chalk grasslands and woodland glades of the Kent Downs.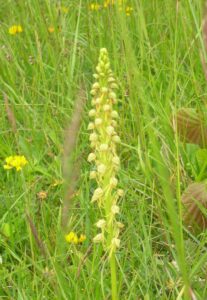 Greater Butterfly Orchid
The name refers to the shape of the flower petals and sepals, which look like the wings of a butterfly. The greater butterfly orchid has a tall spike of greenish white flowers, and it can be found throughout the British Isles from May to July.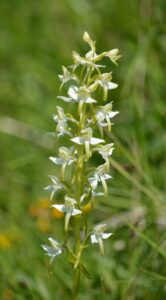 Where to see orchids in the Kent Downs AONB?
If you're keen to try and spot wild orchids for yourself, here's a selection of sites in the Kent Downs where you're likely to find them:
Queendown Warren Nature Reserve
Located south of the M2 between Sittingbourne and Chatham, Queendown Warren stretches across 76ha of valley landscape. Once a medieval rabbit warren, the chalky slopes of the reserve are now a haven for wildlife. The site is renowned in Kent for its orchids, with 10 species recorded here, including bee, pyramidal, man and early spider-orchid.
Yockletts Bank Nature Reserve
Yockletts Bank, near Stelling Minnis, is a must-visit site for orchid lovers. Managed by the Kent Wildlife Trust, the ancient woodland and chalk grassland here is a designated Site of Special Scientific Interest (SSSI). Here you can find colonies of fly, common spotted, early-purple and the endangered lady orchid.
Park Gate Down
Nestled in the Elham Valley, Park Gate Down is a small reserve, and another Site of Special Scientific Interest (SSSI) managed by the Kent Wildlife Trust. The ancient chalk grassland here is teeming with flora. Look out for bee, common spotted, pyramidal, greater butterfly, and the rare monkey orchid.
Samphire Hoe
Created during the construction of the Channel Tunnel, Samphire Hoe is a nature reserve on the outskirts of Dover. It's home to over 200 species of plant and wildflower, including several orchid species. You can visit here to look for early-spider, common spotted, pyramidal, and bee orchids.
Bonsai Bank
Bonsai Bank forms part of Denge Wood, located to the south of Canterbury, and is owned by the Woodland Trust and Forestry Commission. This small glade amongst stunted conifers is home to impressive colonies of lady orchid, as well as early purple, common spotted and greater butterfly orchid.
Remember to respect, protect and enjoy
Kent's orchids, like many species, are under threat from habitat loss, biodiversity decline, and climate change. Please take care around orchids if you spot them and give them space. Stick to the paths, don't get too close as you may inadvertently trample on their companions, and do not pick them.
Further advice for exploring the Kent Downs responsibly