Follow the Wine Trail
Starting and finishing at the family-owned Chartham Vineyard, let Walk Kent show you the spectacular views, fascinating history and delicious tastes of Kent on this circular walk around Chartham.
4 hours
£65 per person
Chartham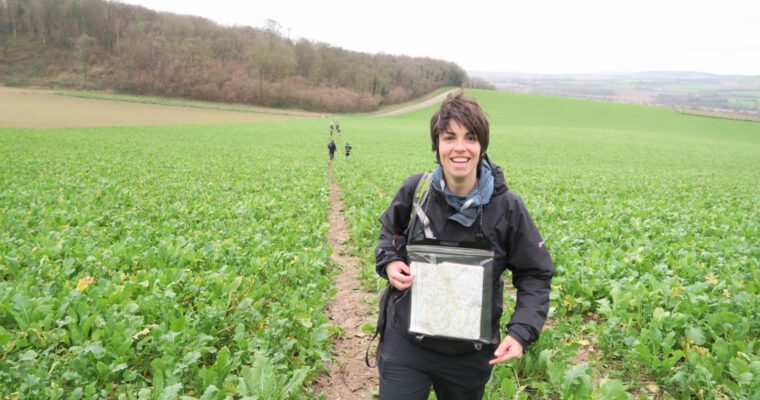 Hannah Fone
Founder, Walk Kent
07960 999 999
Follow on:
Meet Hannah — Kent local, Lowland Leader, professional tour guide and founder of Walk Kent, home to some of the most unique tours around Kent's spectacular outdoor spaces. She invites you to join her on a gentle 5-mile circular walk around Chartham; a cosy village just outside of Canterbury.
On the walk, let Hannah guide you across the banks of the historic River Stour and pass through The Blean; the largest area of ancient woodland in the South East of England. After passing the iron-age hillfort at Bigbury Camp and taking in the stunning North Downs (and of course allowing plenty of time to take pictures in between!), we'll end up at the chalk ridge — the very same one that supports the Chartham Vineyard, where you'll start and finish the circular walk.
Back at the vineyard, you can enjoy a short tour of the family-run winery — see the vines (where the soils match the terroir of the Champagne region of France!), meet the owners of the vineyard and, of course, try some wines! In the special setting of the winery's 450-year-old barn, you'll get to sample five of Chartham's finest wines; whites like Bacchus and Pinot Gris, a red Pinot Noir and sparkling Blanc DeBlancs and Rose De Noir.
After the tasting, you'll have plenty of opportunities to admire the work of local artists in the on-site art galleries and also visit the cellar door shop, to take a little taste of Kent back home with you.
Map is loading...